| | |
| --- | --- |
| | Small enough to know you, big enough to serve you. |
What Does Your Front Door Say About Your Home?
April 1, 2015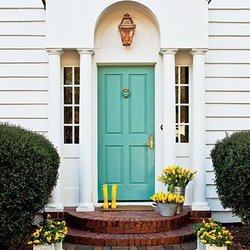 Just like people, the front door to our home gives people their first impression of what the inside might be like. So, what does your front door say about your home and is it welcoming?


Does your front door pop with color?


Is your front door more traditional and timeless ?


Is your front door mostly glass? Transparent and allowing light to shine.


Maybe your front door is behind a storm door? Which gives you the best of both worlds.


Is your front door looking tired, rundown or not well managed?


The entrance to our homes is often the first indicator as to whether we cherish our home. A well cared for entrance, gives visitors or potential buyers the impression that the home has been well maintained and loved.

A little paint or the installation of a new door can drastically change your entry way and add great curb appeal. Well worth the investment for your front door to say, "Welcome to our home!"

Photo credit: Pinterest/Southern Living.